One of our VIP customer have a project on 60sets GPNVG 18 ground panoramic night vision goggles housing project and have the following questions from end users:
1. We did not realize on how ambient light sensor is used in this device. We see that it has light sensor,what is the logic of ambient light sensor?

Answer: the logic table sent to you as attachment, please check;
2.Does this model include IR illuminator or as an option, this is more for our understanding.

Answer: It has 2 IR illumnator as below image show"IR";
3.We want to know following details for the battery packs:

*Type of battery: CR123A, 3.7V;

*Quantity of batteries per pack: 4;

*Can rechargeable batteries be used: Yes;
4. We will need following accessories for the product, the in the same quantity. Please review what you can offer.
A. Soft Case with MOLLE, black which can fit the quad tube goggles.
Yes, we finally found the below MOLLE type soft case and pass customer's confimation;
B. Hard case with protective foam to accept the device, the battery pack and helmet mount, black.
Offer for free, image as below, the mount space under the cable.
5. Battery charger for the type of batteries in the battery pack.

Yes, we do not produce well search a 4 position charger in China and passed customer's testing.
6. Counterweight with Velcro mount.

We found the below counterweight, its weight 248g and sample passed customer's testing.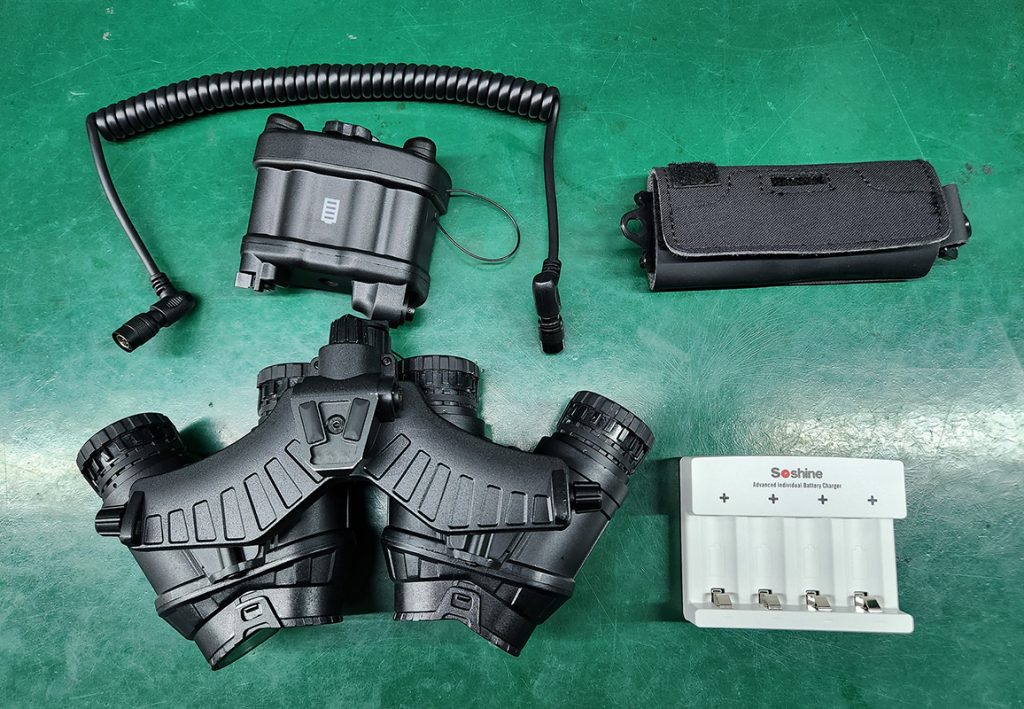 After save above question, customer give the offer to us, the lead time is 30 days after deposit.
Now these devices production almost ready for delivery, it only need about 10 days from our factory to customer's hand.
This customer also ordered PVS31 housing, COTI, night vision goggles(NVS 7), helmet mount, soft helmet from us.
Lindu night vision, your one-step night vision devices and assessories supplier, looking forward to cooperate with you.