We offer the GPNVG housing kit with battery packs, you can buy and install the tubes in your side, it can fit MX-10160 tube or other same size tube, tube drawing as below image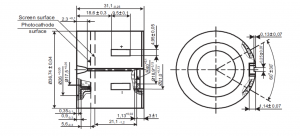 The full body made by high quality plastic military standard quality, the tubes easy to buy at North American and European, please send inquiry through below contact form, you will got reply in 12 hours. Thanks
Introduction
With the new technology, Lindu Optics developed a new Ground Panoramic Night Vision Goggles which called LDNV014N GPNVG, The purpose of the GPNVG is to provide the operator more information under goggles, allowing him to more quickly move through the OODA Loop (Observe, Orient, Decide, Act). The most striking feature of the GPNVG is the presence of four separate image intensifier tubes with four separate objective lenses arrayed in a panoramic orientation.
The center two lenses point forward like traditional dual-tube goggles, giving the operator more depth perception, while two more tubes point slightly outward from the center to increase peripheral view. The two tubes on the right and the two on the left are spliced at the eyepieces. The operator sees the two center tubes somewhat overlapping the two outer tubes to produce an unprecedented 120° FOV. This is an absolute game-changer for the SOF community.
The two right and two left tubes are housed in merged assemblies and are hung from a bridge, giving operators interpupillary adjustment options. They can also be easily removed and operated as independent handheld viewers. The IPD of the two system can be adjusted on the helmet mount.